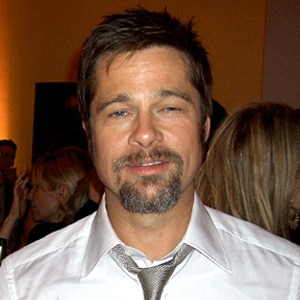 Typically its a makeup artists job to make sure you never see something like this. Even Brad looks iffy all shiny when he's not supposed to be.
(I had nothing to do with this shot, I've yet to work with Brad Pitt)
But sometimes on guys like boxer Floyd
Mayweather
, that kind of look is appropriate in the right shot.
(Floyd's grooming by me)
Being a makeup artist isn't always about making girls pretty. As a matter of fact my job is more about pleasing "my" client. My client isn't always the person in the chair, my client is usually the director and art directors. Its my job to create their vision. Being in Las Vegas I cant tell you how many times that vision has been Hooker Black Eyeshadow and Centerfold Curly Hair, (I'll have to post about that some day). I've worked with alot of pro athletes in my day. They're not big fans of makeup. (Tiger complained and winced every time I approached him with a brush for this commercial. He is a saucy type so I told him to quit being a baby and let me cover the zit he had on his chin. He grinned after I scolded him and said "No offense, I just hate makeup, but I think I'm gonna like working with you." It was a fun day, we cracked alot of inappropriate jokes and made fun of his face on playback)

And yes my friends even superstars get zits, trust me I've seen them, touched them and covered them.

Tiger was probably one of the only ones that didn't involve my secret sauce....
SWEAT! This is Brandon Roy of the NBA Trailblazers... I can't divulge the nature of the shoot we did this week, sorry. The lighting was amazing on this shoot, he is really back lit and my job was to make sure his skin had the right affect with my secret sauce of SWEAT. Since I doubt any of my blogger friends care to make themselves look sweaty, I will keep my secret sauce under wraps.

And just for you I broke my rule of no pics with celebs. I'm so behind on the NBA I had no idea who he is, plus Brandon was a sweet kid. This is his best friend and assistant Cole, I loved the story of their history, they've been best buds since the 6th grade, and now they work together and take care of each other.

I've decided that sexy-cool sweat is strictly for athletes. Just doesn't have the same visual affect on out of shape folk like me.

Everybody Dance Now by C & C Music Factory