"Who is your favorite celebrity you've worked with?"
This is a question I get asked often. Honestly it makes me uncomfortable because I feel like my favorite
isn't
the
asker's
favorite and they're never impressed. Jude Law, Sylvester Stallone, Molly Sims... none hold a candle to "Heart"in my book.
I can still remember in the 8
th
grade opening a gift that contained a cassette entitled "HEART". This was MY tape, not my dad's L.P. that he would make me a copy of, this was a true cassette with a genuine cover and the songs printed (not handwritten) on the cassette itself. Ooooh see see, the lyrics are written in the jacket, no more rewinding and fast forwarding trying to figure out the words to my favorite songs. And look how cool Ann and Nancy were, I'll be staring at this for hours thank you very much, AND it rocked!
Listening to Ann belt out a
rockin
tune in her amazing crisp and rich voice was not new to me. See my dad Ted had quite the album collection. Most kids my age were brought up on Neil Diamond, Dolly
Parton
and Inglebert
Humperdink
. Not me..
Foghat
, Zeppelin, Beatles and Heart were belted in my home. The living room was filled with shelves loaded with vinyl. When dad was listening to music, it was so LOUD you
couldn't
hear yourself think, so why bother to even try to think, just sit back and enjoy. I would thumb through the numerous albums looking for my favorite covers while my ears were bleeding, just hanging and rockin out with Dad.
(It's really no wonder why I'm hard of hearing these days.)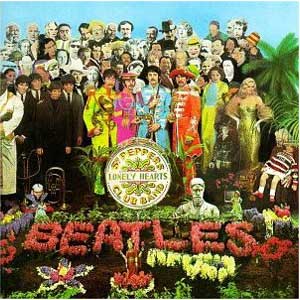 This one used to just freak me out. I would make myself look at it so I wouldn't be a
fraidy
cat.
To this day, Heart is still one of my favorite bands, Ann still has her voice and they sound amazing live. Once on a 10 day shoot, everyone forgot their music except me, and I had brought along my Heart collection. Now, I get teased by my family crew for the 10 days of angry female music they were put through. It's all good. The truth is, I was in heaven those 10 days.
So imagine my horror when I
received
a booking call to ready the girls for a Led Zeppelin A&E Biography. I was having
Keanu
flashbacks, I was tempted to give the job away. I was afraid I would throw up in Ann's lap. I remember praying in the car, crying and telling myself over and over again what a professional I was and I could be calm, cool and collected. This was NO BIGGIE, who were these chicks anyway? Normal people, aging singer and guitar player. Probably NOT nice, probably high
maint
and probably total witches dang it! Who needs these girls anyway, I'll show them.. who do they think they are? They're nothing without my talent and brushes. Who cares this was
"Nothin at All!
" humphh
I stomped into the studio,
didn't
even bother to look into the green room, (I was too cool to even try to peek) walked straight to the makeup room. Where there was a woman in the chair getting her hair done. Who was this woman? She was so..... average looking, no makeup, a t-shirt and rollers in her hair. Whew.... civilian. "Mary, I'd like you to meet Ann, you'll be doing her makeup today, Nancy will be in from L.A. very soon." said the producer.
Oh for the love of all that is good please
dont
let me crap myself.
"Hi Ann, nice to meet you." "Pleasure." said Ann. I'm proud to say I kept my composure chanting to myself
"This is a civilian in my chair, this is a civilian in my chair."
We made pleasant small talk, she was horribly tired, they were on tour, she needed to save her voice, so I kept my mouth shut and gave her the makeup she wanted.
Later Nancy came in, what a SWEETIE! Very pleasant, she was chatty, we talked kids, we talked about their new album Jupiter's Darling at the time. We talked movies, her husband is Cameron Crow and then we had a most memorable moment. I felt I could share at this point . "Nancy, can I just tell you something and promise you wont freak out?" "Sure, whats up?" "I'm a HUGE Ann fan. She is such a
freakin
rock star!" I cried. "I KNOW,
isnt
she amazing? My sister
F'n
rocks, she blows me away to this day!" she said as she shared in my excitement. Then she went on to brag about her sister and all her accomplishments. Ann's number one fan is clearly Nancy.
(Which is most likely why I've never gotten a callback, I could give Nanc a run for her money.)
Here they are in my makeup garb. Ann likes it strong, Nancy just enough not to look to underdone next to Ann. Yep, that was my favorite celeb day of all time. Hope you're not disappointed.
In 2007 I worked backstage at the
VH
1 Rock Honors where Heart was honored. I was nowhere to be found when Heart was rehearsing for this
performance
. Hearing Ann rehearse was such a treat. That raw voice during mic check... oh yeah I have goose pimples just thinking about it.
So everybody has one... What celebrity would you like to work with?

Nothin At All by Heart